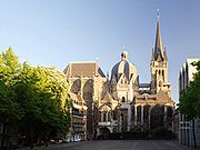 The Aachen Cathedral was erected on the orders of Charlemagne in 786 AD and was on completion the largest dome north of the Alps. On his death Charlemagne's remains were interred in the cathedral and can be seen there to this date. The cathedral was extended several times in later ages, turning it into a curious and unique mixture of building styles.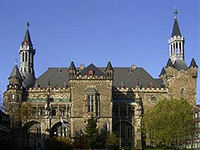 The 14th-century city hall lies between two central places, the Markt (market place) and the Katschhof (between city hall and cathedral). The coronation hall is on the first floor of the building. Inside you can find five frescoes by the Aachen artist Alfre Rethel which show legendary scenes from the life of Charlemagne, as well as Charlemagne's signature.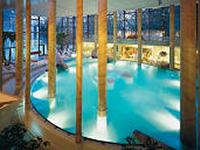 Aachen Spa
(der Carolus Thermen)
The source of the city's fame is the Aachen water which was already known to the Celts and Roman legionaries. It is heated by the Eifel volcano up to a temperature of 74°C and is known to be the hottest volcanic spring water north of the Alps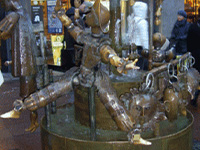 Marrionette Fountain
(der Puppenbrunnen)
In Aachen's oldest commercial street, the Kramerstrasse, you will find the interesting Marionette Fountain with its moveable bronze marionettes.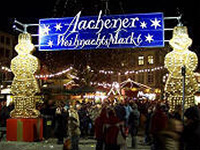 The Christmas Market
(der WeihnachtsMarkt)
The Aachen Christmas Market is Germany's nearest Christmas Market to the UK. It is set around the cathedral and town hall and the tradition goes back to the seventies. Originally when it was held around the Elisa Fountain the "Printen Market" was rather small. A huge change took place when it was moved to the Market Place and the Katschhof as well as the adjoining small streets.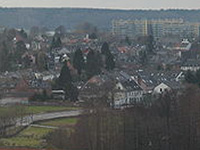 Three Borders Meet
(der Dreiländepunkt)
The German-Belgium-Netherlands borders all meet at one point west of Aachen.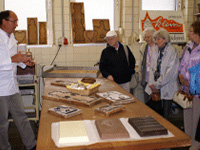 Printen
(die Bäckerei Klein)
Visit the bakery to stock up on Aachen's traditional biscuits – delicious Printen can be hard or soft and are made with rich spices, herbs or nuts. Some are decorated with icing; others are covered with tempting chocolate. Society Members watch a demonstration by Herr Klein during 2008 visit to Aachen and buy enough to take home.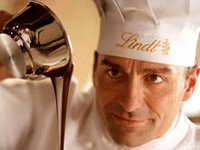 For all chocolate lovers, the Lindt Factory Outlet is an absolute must. Buy your favourite Lindt chocolate at significantly reduced prices – much cheaper than any retail shop.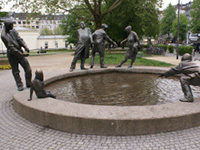 Money Fountain
(der Geldbrunnen)
Also nearby to the Marrionette fountain  is the Money fountain which represents the circulation of money in today's society.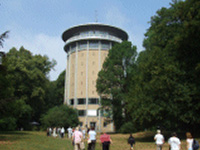 The Water Tower Belvedere is a water tower of reinforced concrete construction in Aachen, Germany, located on the Lousberg hill. It was built in 1956 and accommodates a revolving restaurant, which revolves once every 56 minutes. Service includes a restaurant, a beer garden and a traditional Sunday brunch.