Even though these visits have been taking place for more than 60 years it is always a much anticipated delight to welcome our friends from Aachen.
This year, the biennial visit from the Aachen Partnerschaft took place in the last week in July. The German visitors stayed at the homes of members of the Society where long standing friendships were renewed and new ones created.
Together with their hosts and other members of the Society, they enjoyed a busy week of events, sightseeing and socialising. At a reception in the Town Hall they were given a warm welcome by the Mayor and Mayoress of Calderdale who also attended a Farewell Dinner for the visitors held at Bradley Hall Golf Club.
Other highlights of the week included a Welcome Party held at Siddal ARLFC, a tour of Shibden Hall, a visit to Grassington and the Hawes Creamery in the Yorkshire Dales, a visit to Bury market and a guided tour and canal boat excursion at the National Waterways Museum at Ellesmere Port.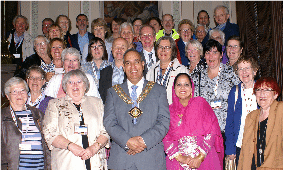 The Society looks forward to making a return visit to Aachen next year and in the meantime we will continue to promote other contacts between individuals and local organisations in Halifax with its close partners in Aachen (contact the Secretary).
Geoff Barnes,
Vice Chair and Publicity Officer